The Science
Notebook
Gilbert Chemistry - Part 1
---
NOTE: This book was published in 1936 as a manual to accompany several Gilbert Chemistry sets of the time. While some of the experiments and activities here may be safely done as written, a number of them use chemicals and methods no longer considered safe. In addition, much of the information contained in this book about chemistry and other subjects is outdated and inaccurate. Therefore, this book is probably best appreciated for its historical value rather than as a source for current information and good experiments. If you try anything here, please understand that you do so at your own risk. See our
Terms of Use.
ALSO NOTE: The first 22 pages consist of the experiments that may be performed with the various sets and the table of contents.. The actual content begins on page 23, in Part 2. Each part will open in a new tab or window for ease of viewing.
---
Cover - page 20
---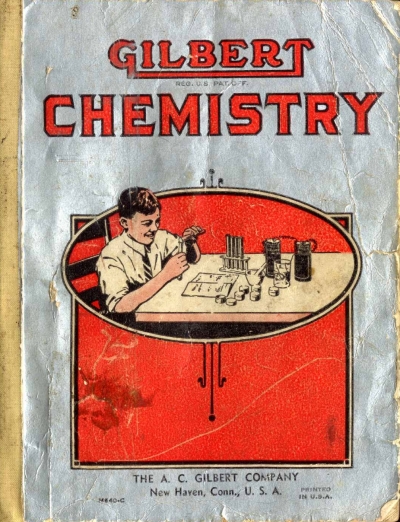 ---
[1]
CHEMISTRY FOR BOYS

Compiled for
The A. C. Gilbert Company, New Haven, Connecticut

Under the Direction of
THE BETHWOOD RESEARCH LABORATORY
Bethany, Connecticut

Edited by
TREAT B. JOHNSON
Yale University, Ph.B. 1898, Ph.D. 1901
and
ELBERT M. SHELTON
Oberlin College, A.B. 1917
Yale University, Ph.D. 1924
in collaboration with
ALFRED C. GILBERT, M.D.
Yale University 1909

Copyright 1936
by The A. C. Gilbert Company, New Haven, Conn., U.S.A.
New York-Chicago - London
Printed in the U.S.A.

---
[2]
PROF. TREAT B. JOHNSON
Editor
Prof. Johnson has been associated with the Chemistry Department of Yale University since 1898. He received the degree of Ph.B. from the Sheffield Scientific School of Yale in 1898, and the Ph.D. degree from Yale Graduate School in 1901. Since this later date he has been continually engaged at Yale in the teaching of organic chemistry and in the promotion and development of advanced research in the field of organic chemistry and Biochemistry.

About 75 graduate students have received their Ph.D. degree for research done under his direction and these specially trained men now hold positions in universities and industrial organizations in this country. Prof. Johnson's publications in the field of organic chemistry number nearly 300 papers, and his pupils who have been granted the Ph.D. are constantly contributing to scientific and technical journals in various lines of activity.

Prof. Johnson is a member of the National Academy of Sciences, The National Research Council, The American Chemical Society, The American Institute of Chemists, The Connecticut Academy of Arts and Sciences and the American Society of Biological Chemists.

At the present time he is holder of the Sterling Chair of Organic Chemistry in the Graduate School of Yale University.

---
[3]
LIST OF EXPERIMENTS THAT CAN BE DONE WITH THE No. 3 SET
8
11
12
13
14
15
17
18
19
21
22
26
27
29
32
36
38
39
41
42
43
44
45
46
47
48
49
50
51
52
53
54
55
56
57
58
59
60
61
62
63
65
68
70
71
72
73
74
75
76
77
78
79
80
82
85
86
87
88
89
90
91
93
94
96
98
99
100
101
102
103
105
107
108
109
111
112
113
114
117
118
119
121
122
123
125
126
127
128
129
130
131
132
134
135
156
137
138
139
140
142
145
147
148
149
152
153
154
155
156
158
165
164
165
174
175
178
179
180
181
185
186
187
188
189
190
202
204
205
206
207
208
209
210
214
215
216
217
220
222
223
226
227
228
231
232
238
239
241
242
243
245
246
248
250
253
254
255
257
258
259
261
262
264
265
267
268
269
270
271
272
273
274
275
276
277
279
280
281
284
287
289
290
291
292
293
294
295
296
297
298
299
300
301
302
303
304
305
306
307
308
309
310
311
312
313
326
333
334
335
349
353
354
355
356
357
358
359
360
363
364
367
370
371
375
376
377
378
379
380
381
382
383
390
391
392
393
394
395
396
397
398
415
419
420
443
445
446
449
450
451
452
454
456
457
460
461
462
463
464
466
467
468
469
470
471
484
487
492
493
494
495
497
498
499
500
503
504
506
508
509
510
511
512
513
516
518
520
521
522
523
524
525
526
527
528
530
531
532
533
535
536
537
538
539
540
546
547
561
563
564
565
567
568
569
575
573
574
576
577
581
583
584
596
600
601
604
606
607
613
614
616
618
621
623
624
626
630
632
633
634
635
636
637
638


---
[4]
LIST OF EXPERIMENTS THAT CAN BE DONE WITH THE No. 6 and No. 8 SETS
8
10
11
12
13
14
15
17
18
19
20
21
22
23
24
25
26
27
28
29
30
32
36
38
39
40
41
42
43
44
45
46
47
48
49
50
51
52
53
54
55
56
57
58
59
60
61
62
63
65
67
68
70
71
72
73
74
75
76
77
77
79
80
82
84
85
86
87
88
89
90
91
92
93
94
96
98
99
100
101
102
103
105
107
108
109
111
112
113
114
116
117
118
119
120
121
122
123
125
126
127
128
129
130
131
132
134
135
136
137
138
139
140
142
145
147
148
149
150
152
153
154
155
156
157
158
159
160
161
162
163
164
165
166
167
172
173
174
175
178
179
180
181
185
186
187
188
189
190
202
204
205
206
207
208
209
210
214
215
216
217
220
222
223
226
227
228
231
232
233
234
235
236
238
239
241
242
243
244
245
246
248
249
250
253
254
255
256
257
258
259
261
262
264
265
267
268
269
270
271
272
273
274
275
276
277
279
280
281
283
284
287
289
290
291
292
293
294
295
296
297
298
299
300
301
302
303
304
305
306
307
308
309
310
311
312
313
315
317
326
332
333
334
335
343
344
345
346
347
349
350
353
354
355
356
357
358
359
360
361
362
363
364
365
366
367
368
369
370
371
373
375
376
377
378
379
380
381
382
383
384
385
386
387
388
389
390
391
392
393
394
395
396
397
398
399
406
407
411
412
413
415
419
420
421
422
423
424
425
426
441
442
443
444
445
446
447
448
449
450
451
452
453
454
455
456
457
458
459
460
461
462
463
464
465
466
467
468
469
470
471
484
485
486
487
488
492
493
---
[5]
LIST OF EXPERIMENTS THAT CAN BE DONE WITH THE No. 6 and No. 8 SETS (continued)
494
495
497
498
499
500
502
503
504
506
507
508
509
510
511
512
513
514
515
516
518
520
521
522
523
524
525
526
527
528
529
530
531
532
533
534
535
536
537
538
539
540
541
542
543
544
545
546
547
548
549
550
551
552
553
554
557
559
561
563
564
565
566
567
568
569
571
572
573
574
575
576
577
580
581
582
583
584
587
590
592
593
594
595
596
597
598
599
600
601
602
603
604
605
606
607
608
609
610
611
612
613
614
616
617
618
621
622
623
624
625
626
627
628
629
630
631
632
633
634
635
636
637
638
---
[6]
[NOTE: In this table, each topic or experiment is shown, followed by a (-), and the page number on which it appears. This differs slightly from the print version of the Table of Contents.

]



Page


Introduction - 23


Origin of the word-"Chemistry" - 24

Origin of Chemistry as a Science - 24

Warning - 26

Definitions of Some Common Chemical Terms - 27

Inorganic Chemistry - 29

Organic Chemistry - 29

TABLES

Metric System Tables - 30

Conversion Tables - 30

Metric Conversion Tables - 31

U. S. Weights and Measures - 31

1. Apothecaries' Weight - 31

2, Avoirdupois Weight - 31

3. Troy Weight - 31

4. Imperial Fluid Measure - 31

PART I

THE CHEMISTS' LABORATORY

and

HOW THE CHEMIST USES HIS EQUIPMENT




THE EQUIPMENT AND ITS USE


The Balance - 32

EXPERIMENT
1. To weigh solids on your balance - 33
2. To weigh a liquid on your balance - 33
5. To make an additional 10 gram weight for the balance - 34
4. To make a 20 gram weight - 34
5. To make a 50 gram weight - 34
6. To make a 1-ounce weight - 34

The Thermometer - 34
The Spatula and Measure - 35
The Measuring Spoon - 35
Beaker - 35

7. To pour liquid from a beaker - 36
Flask - 36
Test Tubes - 36
The Test Tube Holder -36
The Stirring Rod - 37
8. Heating a liquid in a test tube - 37
The Test Tube Brush - 38
---
[7]
EXPERIMENT Page


Alcohol Lamp - 38
Blow Pipe - 38
Gas Delivery Tube - 38
Mortar and Pestle - 39

9. To pulverize a coarse solid to a fine powder - 39
The Funnel and Filtering - 39
10. To filter solid particles from a liquid - 39

The Gas Generator - 40
Measuring Liquids or Solutions - 41
Glass Blowing - 41

11. To cut small glass tubing and rods - 41
12. Fire polishing glass - 41
13. To bend glass - 41
14. To cut a glass jug in two - 41





PART II

INORGANIC CHEMISTRY AND ITS COMMERCIAL APPLICATION TO THE INDUSTRIES







Kinds of Matter - 42
Division at Matter - 42

15. Division of Matter - 43
16. Division of Matter - 43
17. Division of Matter - 43





INORGANIC AND ORGANIC MOLECULES




Mobility of Molecules in Solids, Liquids and Gases - 44





PHYSICAL PROPERTIES OF MATTER




Mass and Volume - 44

18. To demonstrate the specific gravity of liquids - 45

Malleability - 45
Ductility - 45
Brittleness - 45
Elasticity - 45
Hardness - 46



FUNDAMENTAL PHYSICAL CONSTANTS WIDELY USED BY THE CHEMIST





Freezing Point or Melting Point - 45
Super-Cooling - 45
Boiling-Point - 46
Super-Heating - 46
Measuring Temperature - 47
The Elements and Chemical Change - 47
The Atomic Theory - 48
The Modern Conception of the Atom - 48
---
[8]
EXPERIMENT Page

Kinds of Chemical Change - 49
Chemical Change Through Degradation by Heat - 49

19. Decomposition of sugar - 49

Decomposition an Inorganic Salt by Heating - 49

20. Decomposition of sodium thiosulphate - 49

Chemical Change by Double Decomposition - 50

21. Action of ferric ammonium sulphate on calcium oxide - 50
22. Action of aluminum sulphate on strontium nitrate - 50

Substitution or the Displacement of One Element by Another - 50

23. Action of iron on copper sulphate -50
24. Action of zinc on copper sulphate - 50
25. Action of magnesium on copper sulphate - 50
26. Action of zinc on hydrochloric acid - 50

Chemical Change by Direct Union of Elements - 51

27. Union of zinc with sulphur - 51
28. Union of Magnesium with Oxygen - 51

The Electric Cell - 51
Electromotive Series - 52
America's Genius in the Field of Electricity - 52
The Atmosphere - 52
Oxygen - 52
Oxygen Experiments - 53

29. To remove oxygen from the air - 53
30. Preparation o oxygen and how to test for it - 53
31. Preparation of oxygen from potassium permanganate - 54

Hydrogen Peroxide - 54

32. Behavior of hydrogen peroxide toward blood - 54
33. A standard test for hydrogen peroxide - 54

Oxidation - 54
Refrigeration and Air Conditioning - 55
Chemical Oxidation Experiments - 55

34. The making of a chemical fire - 55
35. How to make a fire without a match - 55
36. Fire ink - 55
37. Oxidation of metallic zinc - 56
38. How to make a fuse - 56
39. Oxidation of an element by means of a nitrate - 56
40. To show the increase in weight upon heating iron in the air - 56
41. Oxidation of spices - 56
42. Suffocating a burning candle - 56
43. Testing for carbonic acid gas - 57
44. Burning sulphur - 57
45. Burning iron - 57
46. Protecting iron from oxidation - 57
47. Oxidation of zinc - 57
48. Oxidation in the body - 57
49. Combustion of charcoal - 57
50. Burning sulphur - 57
51. Burning paper - 58
52. Oxidizing copper - 58
53. Oxidizing iron - 58
54. Oxidizing aluminum - 58
55. Oxidizing nickel - 58
56. Oxidizing zinc - 58

---
[9]
EXPERIMENT Page

57. Oxidizing silver - 58
58. Asbestos Insulation - 58
59. Cotton fiber - 58
60. Oxidizing sulphur in copper sulphate - 58

Protection Against Fire - 58

61. To fireproof cloth or paper - 59
62. To fireproof wood - 59
63. Fire-proofing cloth - 59
64. Fire-proofing with sodium tungstate - 59
65. Fire-proofing with sodium silicate - 59

Fire Extinguishers - 59

66. Carbon tetrachloride, a fire extinguisher - 60
67. A hand grenade fire extinguisher - 60

Hydrogen - 61
Helium and Aviation - 61

68. Preparation of hydrogen - 62

Reduction - 62
Reduction Experiments - 63

69. Reduction of potassium permanganate - 63
70. Reduction of logwood - 63

Bleaching - 63

71. Bleaching flowers with sulphur dioxide - 63

Nitrogen - 64

72. Preparation of nitric acid - 64
73. How to make an explosive mixture - 65
74. Nitrogen from the air - 65

Ammonia - 65

75. Preparation of ammonia - 65
76. Formation of ammonia by decomposition of organic matter - 66

Water - 66
Dissociation of Water into the Elements Oxygen and Hydrogen - 68

78. Decomposition of water by an electric current (electrolysis) - 68

Explanation of the Electrolysis Experiment - 69
Aqueous Solution - 69

79. A soluble substance - 69
80. An insoluble substance - 69
81. Diffusion - 69
82. Diffusion of cobalt in water glass solution - 69
83. A chemical garden - 70
84. Diffusion through cellophane - 70
85. Separation of starch from sugar - 70
86. separating sugar from a protein - 70

Chemical Action in Water Solution - 70

87. Promoting chemical reaction by solution - 70
88. A color change due to solution - 71

Dry Ice Experiments - 71

89. Extinguishing a burning candle - 71
90. Burning sulphur - 71
91. Burning magnesium - 71
92. Floating a sunken ship - 71
93. Measuring dry ice pressure - 71
94. A miniature gas volcano - 71
95. Dry ice temperature - 71
---
[10]
EXPERIMENT Page

Endothermic and Exothermic Changes - 72

96. Lowering of temperature by solution - 72
97. Raising of temperature by solution - 72

Artificial Refrigeration - 72

98. How to make a freezing mixture - 72

Changing the Freezing and Boiling Points - 72

99. Solution lowers the freezing point of water - 72
100. Solution raises (he boiling point of water - 73

Supercooling - 73

101. Undercooled water - 73

Degree of Solubility in Water - 73

102. Effect of temperature on solubility - 73
103. Temperature's effect on solubility - 73
104. Dissolving liquids in each other - 73
105. Dissolving a gas in water - 74
106. Removing a gas from solution by boiling - 74
107. Diffusion - 74
108. Testing for acidity - 74
109. Testing for lime - 74
110. Testing for sulphates - 74
111. Testing for iron - 74
112. Testing for carbon dioxide - 75
113. Testing for sulphur - 75
114. The boiling point of water, compared with salt - 75
115. Purification of water by Distillation - 75

Water of Crystallization - 76

116. Water of crystallization - 76
117. Formation of crystals (rock candy) - 76
119. Disappearing ink - 77
120. Crystals of copper sulfate - 77
121. Crystals of tartaric acid - 77
122. Crystals of iron alum - 77
123. Crystals of magnesium sulphate - 77
124 Crystals of Glauber's salt - 78

Testing Water - 78
Sewage Contamination - 78
Bacteria in Industry - 78
Hard Water - 79

125. Temporary hardness - How to get rid of it - 79
126. Permanent hardness - How to get rid of it - 79
127. Clarifying water - 79
128. Testing for odor - 80
129. A test foe color and clearness - 80
130. How to test for solid matter in water - 80
131. How to test for free alkali in water - 80
132. How to test for acidity in water - 80
133- How to test for organic matter in water - 80
134. How to test for soluble sulfates in water - 81
135. How to test for lime in water - 81
136. How to test for iron in water - 81
137. How to test for carbon dioxide in water - 81

Sulphur - 82

138. Behavior of sulphur at different temperatures - 82
---
[11]
EXPERIMENT Page

139. Preparation of lime - sulphur solution - 82
140. Sulphur dioxide from burning sulphur - 82
141. Sulphur dioxide from sodium bisulphite - 82
142. Bleaching with sulphur dioxide - 82
143. Preparation of sulphurous acid - 83
144. Preparation of sulphur trioxide - 83
145. Preparation of sulphuric acid - B4
146. Sulphur acid from sulphur dioxide and hydrogen peroxide - 85
147. How to make strontium sulphate - 85

Hydrogen Sulphide - 85

148. How to make hydrogen sulphide - 85
149. Action of hydrogen sulphide on sulphur dioxide - 85
150. Action of chlorine gas on hydrogen sulphide - 86
151. Reducing action of hydrogen sulphide - 86
152. How to restore the color of white paint - 86
153. Silver sulphide - 87
154. Sulphur in rubber - 87
155. Sulphur and silver coin - B7
156. Nickel sulphide - 87
157. Copper Sulphide - 87
158. Zinc sulphide - 87
159. Ferrous sulphide from sodium thiosulphate - 87
160. Ferric sulphide from sodium thiosulphate - 87
161. Nickel sulphide from sodium thiosulphate - 87
162. Manganese sulphide from sodium thiosulphate - 88

The Halogens - 88

163. How to make chlorine gas - 88
164. To show the bleaching properties of chlorine - 88
165. How to make hydrochloric acid - 89

Bleaching Powder - 89

166. How to make chlorine from bleaching powder - 89
167. Bleaching with bleaching powder - 89
168. How to make iodine - 89
169. How to test for iodine - 90
170. Formation of lead iodide - 90
171. Partition solubility of iodine - 90
172. Testing vegetables for starch - 91
173. Testing other substances for starch - 91

Gas Warfare - 91
The Gas Mask - 92
Boron and the Borates - 92

174. Boric acid from borax - 92
175. Borax from boric acid - 92
176. Test for boric acid - 93
177. Examination of Talcum powder - 93

Borax Glass - 93

178. Cobalt borax glass - 93
179. Iron borax glass - 93
180. Manganese borax glass - 93
181. Nickel borax glass - 93
182. Chromium borax glass - 93

Boron Compounds - 93

183. Strontium borate - 93
184. Magnesium borate - 94
---
[12]
EXPERIMENT Page

185. Aluminum borate - 94
186. Ferric borate - 94
187. Cobalt borate - 94
188. Nickel borate - 94
189. Manganese borate - 94
190. Calcium borate - 94
191. Chromium borate - 94

Phosphorus and the Phosphates - 94

192. Nickel phosphate - 95
193. Copper phosphate - 95
194. Strontium phosphate - 95
195. Aluminum phosphate - 95
196. Ferric phosphate - 95
197. Manganese phosphate - 96
198. Calcium phosphate - 96
199. Cobalt phosphate - 96
200. Magnesium phosphate - 96
201. Chromium phosphate - 96


The Alkali Metals - 96

202. How to make sodium hydroxide - 96
203. Manufacture of sodium bicarbonate or baking soda - 97
204. To convert sodium bicarbonate into sodium carbonate - 97

Hydroxides - 97

205. Aluminum hydroxide - 97
206. Ferric hydroxide - 97
207. Nickel hydroxide - 97
208. Manganese hydroxide - 97
209. Zinc hydroxide - 98
210. Cobalt hydroxide - 9B
211. Magnesium hydroxide - 98
212. Calcium hydroxide - 98
213. Chromium hydroxide - 98
214. Obtaining potash from wood ashes - 98

Alkaline Earth Metals, Calcium, Strontium, Barium - 98

215. Burning limestone to quick lime - 99
216. Slaked lime or calcium hydroxide - 99
217. Making mortar - 99
218. To make Plaster of Paris - 99
219. Making a cast with plaster of Paris - 99
220. Calcium sulphide light - 100
222. Red fire - 100
223. How to make green fire - 100
224. How to make yellow fire - 100
225. Preparing a safe explosive - 100
226. Pharaoh's serpents - 101
227. How to make snakes - 101
228. Red flame from sawdust - 101
229. An aurora borealis - 101

Color in Fireworks - 101
Aluminum, Zinc, Magnesium - 102

230. Colored aluminum lake - 102
231. Action of sodium carbonate on aluminum sulphate - 102
232. Action of zinc on alkalis - 102
---
[13]
EXPERIMENT Page

233. How to make a white flashlight powder - 103
234. How to make a red flashlight powder - 103
235. How to make a green flashlight powder - 103
236. Making sparklers - 103

Thermite - 103

237. Thermite fusion - 103

Silicates - 104

238. Silicic acid - 104
239. Sodium silicate (water glass) - 104
240. Strontium silicate - 104
241. Zinc silicate - 104
242. Aluminum silicate - 104
243. Nickel silicate - 104
244. Ferrous silicate - 105
245. Ferric silicate - 105
246. Tin silicate - 105
247. Chromium silicate - 105
248. Cobalt silicate - 105
249. Copper silicate - 105
250. Manganese silicate - 105
251. Magnesium silicate - 105
252. Calcium silicate - 105

Ferrocyanides - 106

253. Zinc ferrocyanide - 106
254. Aluminum ferrocyanide - 106
255. Nickel ferrocyanide - 106
256. Ferrous ferrocyanide - 106
257. Ferric ferrocyanide - 106
258. Manganese ferrocyanide - 106
259. Cobalt ferrocyanide - 106
260. Chromium ferrocyanide - 106
261. Tin ferrocyanide - 106



PART III

ORGANIC CHEMISTRY AND ITS COMMERCIAL

APPLICATION TO THE INDUSTRIES


Carbon - 107
The Manufacture of Illuminating Gas - 108

262. Preparation of charcoal - pyro-ligneous acid - 108

The Smoking of Ham and Meats - 109

263. Decolorizing properties of charcoal - 110
264. deodorizing properties of charcoal - 110
265. Absorbing properties of charcoal - 110

Absorbent Charcoal - 110

266. Absorbing coloring matter with charcoal - 110
267. Decolorizing vinegar - 110
268. Absorbing bitter taste with charcoal - 111
269. Absorbent charcoal from ground cocoanut shells - 111
270. Absorbent charcoal from butternut shells - 111
271. Preparation of absorbent charcoal from hickory nut shells - 111
---
[14]
EXPERIMENT Page

272. Preparation of absorbent charcoal from white birch wood - 111
273. Preparation of absorbent charcoal from pine wood - 111
274. Preparation of absorbent charcoal from maple wood - 111
275. Preparation of absorbent charcoal from chestnut wood - 111
276. Surface tension and the rubber band - 111
277. Changing the specific gravity of charcoal - 111

Carbon Dioxide or Carbonic Acid Gas - 112
Medical uses of carbon dioxide - 112
Carbonates of Metals - 112

278. Strontium carbonate - 112
279. Nickel carbonate - 113
2BO. Zinc carbonate - 113
281. Aluminum carbonate - 113
282. Chromium carbonate - 113
283. Ferrous carbonate - 113
284. Cobalt carbonate - 113
285. Calcium carbonate - 113
286. Copper carbonate - 113
287. Manganese carbonate - 113
2B8. Magnesium carbonate - 114

Carbon Monoxide - 114
Ethyl Gas - 114

289. Preparation of carbon dioxide - (effervescence) - 115
290. Vinegar and baking soda - 115
291. Vinegar and oyster shells - 115
292. Vinegar and painter's whiting - 115
293. Vinegar and chalk - 115
294. Vinegar and marble - 115
295. Vinegar and tooth powder - 115
296. Vinegar and old mortar - 115
297. Vinegar and Portland cement - 115
298. Carbon dioxide is heavier than air, and will not burn - 115
299. Chemistry of the flame - 116
300. Carbon dioxide from a burning candle - 117
301. The structure of a flame - A gas factory - 117
302. The Structure of flame - Manufacturing lampblack - 117
303. Carbon dioxide in the breath - 118

Tannin and to Applications - 118

304. Testing for tannin - 119
305. Another test for tannin - 119
306. Test for tannin in tea - 119
307. Tannin from oak bark - 119
308. Tannin from hemlock bark - 120
309. Tannin from chestnut bark - 120
310. Tannin from chestnut wood - 120
311. Tannin from sumac leaves - 120
312. Tannin from acorns - 120
313. Making a tannic acid solution for burns - 120

Paints, Lacquers, and Water Colors - 120

314. Making a water color medium or vehicle - 121
315. To make a color lake - 121
316. To make a carmine lake - 121
317. To make a black lake - 121
318. A black charcoal paint - 121
---
[15]
EXPERIMENT Page

319. A black iron paint - 121
320. White terra alba paint - 121
321. Paris white - 122
322. To make zinc white - 122
323. To make Prussian blue - 122
324. A brown iron paint - 122
325. A black manganese paint - 122
326. A white wash - 122
327. Making a lacquer vehicle - 122
328. An aluminum lacquer - 122
329. A black lacquer - 122
330. To prepare a wet pigment for use in a lacquer - 123
331. Another way to prepare a wet pigment foe use in a lacquer - 123
332. Testing white paint for lead - 123
333. Testing water color paints for carbonates - 123


The trade names and Chemical Names of 76 Chemicals about the
House - 124
The Family Doctor - 125
Chemistry and Public Health - 125
First Aid Don'ts - 127
First Aid Chemicals - 127
Help in Case of Accidents - 128

334. Capsule experiment - 129
335. Capsule experiment - 129
336. Preservation of animal matter - 129
337. Putrefaction of meat - 129
338. Decoction of bayberry leaves - 129
339. Balsam - 129
340. Bayberry extract - 129

Christmas Experiments - 130

341. Preparation of bayberry wax - 130
342. Making a bayberry candle - 130
343. Balsam pillows - 130
344. Making a partridgeberry bowl - 130
345. Evergreen trees - 131
346. Around the fireplace at Christmas - 131

Colored Flames for Fireplaces and Open Fires - 131
General Directions for Chemical Treatment - 131

347. A blue fireplace flame - 131
348. A purple fireplace flame - 131
S49. A green fireplace flame - 131
350. A red fireplace flame - 132
351. An orange fireplace flame - 132
352. Christmas souvenirs - 132
353. A Merry Christmas greeting - 132
354. Happy New Year - 132
355. April Fool - 132
356. Believe it or not - 132

The Chemistry of Foods - 132
Home Kitchen Chemistry - 134

357, The use and care of aluminum ware - 134
---
[16]
EXPERIMENT Page

35B. Why zinc vessels ore not used for foods - 134
359. Cooking in copper vessels - 134
360. Testing silver plate - 134
361. Cleaning silverware - 134
362. Removing iodine stains - 134
363. A test for soil in the flower pot - 134
364. A fragrant paste wax - 135
365. Keeping the surface of window panes clear - 135
366. Colored soap - 135
367. Perfumed soap - 135
368. Liquid soap - 135
369. Transparent soap - 135
370. How soap cleanses - 135
372. Borax soap - 136
373. Medicated soap - 136
374. Dissolving grease - 136
375. How biscuits are raised - 136

Some Applications of Chemistry in Mother's Kitchen - 136

376. Protein in the white of an egg - 136
377. Protein in chicken's liver - 137
378. Protein in lamb's kidney - 137
379. Protein in dry cheese - 137
380. Protein in the skin of a potato - 137
381. Protein in breakfast cereal - 137
3B2. Protein in glue - 137
383. Protein in rayon silk - 137
384. Sulphur in proteins - 137
385. Sulphur in old leather glove - 137
386. Sulphur in dried cheese - 137
387. Sulphur in rubber tubing - 137
388. Sulphur in woolen yarn - 137
389. Sulphur in ground mustard seed - 137
390. Testing canned goods for copper - 137
391. Copper in oysters - 138
392. Copper in scallops - 138
393. Copper in a round clam - 138
394. Testing coffee - 138
395. Decolorizing hamburger steak - 138
396. Hydrogen peroxide and liver - 138
397. Hydrogen peroxide and a lamb's kidney - 138
398. Chicken feathers - 138
399. Honey comb - 138
400. Iron in honey comb - 139
401. Bees' wax - 139
402. A wasp's nest - 139
403. Composition of a wasp's nest - 139
404. House flies - 139
405. The house wasp - 139
406. Tannin in tea - 139
407. Sanka Coffee - 139
408. Potato sprouts - 139

Some Practical Chemical Experiments - 139

409. Making a low temperature bath - 139
---
[17]
EXPERIMENT Page

410. A sugar bath - 139
411. Iron in your tonic - 139
412. Iron in blood - 140
413. Decolorizing tincture of iodine - 140
414. Stains on your fingers - 140
415. Cleaning a straw hat - 140
416. Removing paint from cloth - 140
417. Preparation of a good gum for labels - 140
418. Rubber cement - 140
419. Cleaning marble - 140
420. Vegetable stains on the hands - 140


Testing for Starch - 141

421. How to make a solution for testing starch - 141
422. Testing for starch in rice - 141
423. Testing for starch in potatoes - 141
424. Testing for starch in flour - 141
425. Testing for starch in corn - 141
426. Testing for starch in apples - 141

The Food Chemist - Jack Horner - 142

427. Testing a raisin for iron - 142
428. Testing raisin seeds - 142
429. Apple seeds - 142
430. Quince seeds - 142
431. Turnip seeds - 142
432. Cabbage seeds - 142
433. Beans - 142
434. Sunflower seeds - 142
435. Lettuce seeds - 142
436. Wheat kernel - 142
437. "Tums for your Tummy" - 142
438. Pop Corn - 143
439. Popcorn balls - 143
440. Grape seeds - 143

Starch and Sugar Industry - 143

441. How to make potato starch - 143
442. How to make cornstarch - 144
443. How to make starch from flour - 144
444. Changing starch into glucose (sugar) - 144
445. Making starch from Bantam sweet corn - 145
446. Manufacture of potato starch - 145
447. Changing starch into sugar in the body - 145
448. Sugar as a reducing agent - 146

Testing for Proteins - 146

449. How to test for proteins in eggs - 146
450. How to test for proteins in milk - 146
451. How to test for proteins in meat - 146
452. How to test for proteins in beans - 146
453. Testing for sulphur in proteins - 147

Bread Making and Baking Powder - 147

454. How to make baking powder - 147
455. How to test for starch in baking powder - 147
---
[18]
EXPERIMENT Page

456. How to test for alum in baking powder - 148
457. How to test for copper sulphate in bread - 148

Testing Milk - 148

458. How to test for coloring matter in milk - 148
459, How to test for starch in milk - 148
460. How to test for butter - 148
461. How to make casein - 149

Soap - 149

462. Making soap - 150
463. Why soap cleanses - 150
464. Making liquid soap - 150
465. Chemical films and bubbles - 150

Detergents - 151
Solving the Hard Water Problem in the Kitchen, Laundry and
Bathroom - 151

466. Action of ordinary soap on hard water - 151
467. Action of ordinary soap on sea water - 151
468. Soap in acid solutions - 151
469. Treating hard water with a hymalal salt - 151
470. Treating sea water with a hymalal salt - 151
471. Action of hydrochloric acid solution on soap - 151
472. Action of calcium chloride solution on soap - 152
473. Action of calcium chloride on a hymalal salt - 152
474. Action of barium chloride on a hymalal salt - 152
475. Action of strontium chloride on a hymalal salt - 152

Alkaline Detergents and their Behavior Towards Metals - 152
Immersion Tests - 152

476. Experimental Procedure - Immersion test with metal strip - 152
477. Tin and sodium hydroxide - 152
478. Tin and sodium carbonate - 152
47S9 Tin and trisodium phosphate - 152
480. Tin and sodium silicate - 152
481. Copper sheet - 152
482. Zinc sheet - 152
483. Sheet aluminum - 153

Gums, Adhesive: and Glues - 153

484. How to cement broken glass - 153
485. How to mend broken china or porcelain - 153
486. How to mend black crockery - 153
487. How to mend blue chinaware - 153
488. Another household cement - 153
489. How to make envelope or postage stamp mucilage - 154
490. A common household adhesive paste - 154
491. Another household adhesive paste - 154
492. Labels for your bottles - 154

Ink - 154

493. How to make black writing ink - 155
494. How to make blue ink - 155
495. How to make purple ink - 155
496. How to make carmine ink - 155
497. How to make green ink - 155
498. How to make a commercial blue-black ink - 156
499. How to make printer's ink - 156
500. A commercial ink powder - 156
501. A red ink powder - 156
---
[19]
EXPERIMENT Page

502. An ink remover - 156
503. Ink powder - 156
504. Blue ink powder - 156
505. Red ink powder - 156
506. How to make carbon paper - 157
507. How to make typewriter ribbon - 157
508. A finger print record - 157
509. Detecting finger prints - 157
510. Blue ink - 157
511. Violet ink - 157
512. Lemon ink - 15B
513. Red ink - 58
514. Safety ink - 158
515. Copying ink - 158
516. Making a camphor ball float - 158
517. Formation of lead iodide - 158
518. Magic transfer solution - 158
519. Partition solubility of iodine - 159

Fermentation - 159

520. Changing sugar into carbon dioxide - 159
521. Changing starch into sugar and carbon dioxide - 160
522. The formation of mould - 160
523. Growth of mould - 160
524. Composition of mould - 160
525. Sugar fermentation - 160
526. Fermentation of corn syrup - 160
527. Making vinegar - 160
528. Souring of milk - 161
529. Artificial butter - 161
530, Testing butter - 162
531. Testing butter - 162
532. Testing butter - 162
533. Milk and the common cold - 162
534. Changing cider into vinegar - 162
535. The souring of milk - 162

Essential Oils and Perfumes - 162

536. Making rose water - 162
537. Making germanium water - 162
538. Making lilac water - 163
539. Making violet water - 163
540. How to make sachet powder - 163
541. How to make incense - 163
542- How to make wintergreen extract - 163
543. How tn make lemon extract - 163
544. How to make orange extract - 163
545. Potpourri sachet - 163
546. Sage - 164



COLLECTED FROM THE MAILBAG


Experiments with Flowers - 164

547. Action of ammonia on a violet - 164
548. Action of ammonia pansy blossoms - 164
549. Action of ammonia on red rose - 164
---
[20]
EXPERIMENT Page

550. Action of ammonia on pink rose - 164
551. Action of ammonia on red tulip - 164
552. Action of ammonia on petunias - 164
553. Action of ammonia on red geraniums - 164
554. Action of ammonia on red carnations - 164

Practical Chemistry - 164

555. Heat by chemical reaction - 164
556. Freezing with chemicals - 164
557. Glycerine-litharge cement - 165
558. Casein-borax glue - 165
559. Protecting book bindings - 165
560. Stains for wood - 165

Textile Chemistry and Dyeing - 165
Testing Textile Fibers - 166

561. The burning test - 166
562. Aceton

[sp]

test for cellulose acetate - 166
563. Microscopic examination - 166
564. Wetting test to identify linen - 166
565. A quantitative test for fabric composition - 166

Dyeing - 167

566. Dyeing with an aniline dye - 167
567. Using an aniline dye with a mordant - 167
568. Dyeing with a natural vegetable dyestuff - 167
569. Another black dyeing - 167
570. Mordant dyeing with cochineal - 167
571. How to make a brown sulphur dye - 168
572. How to make a black sulphur dye - 168
573. How to make black logwood dye - 168
574. How to make dark red logwood dye - 168
575. How to make green logwood dye - 168
576. How to make blue horse chestnut dye - 168
577. Changing red logwood solution yellow, then blue - 168
578. Changing yellow turmeric solution brown - 169
579. Changing red cochineal solution violet, then orange - 169
580. How to dye cloth red - 169
581. How to dye cloth dark blue - 169
582. How to dye cloth a light blue - 169
583. How to dye silk gray - 170
584. How to dye cotton iron buff - 170

Spot and Stain Removal - 170

585. To remove grease from clothing - 170
5S6. To remove paint from clothing - 170
587. To remove ink spots - 171
588. To remove iron rust - 171
589. How to remove acid spot - 171
590. How to remove alkali from clothing - 171
591. How to to remove grass stain - 171
592. How to remove mildew - 171
593. How to remove iodine stain - 171

Textiles and Agriculture - 171
Source of Wool - 172

594. Woo! scouring - 172
595. Wool Grease - 172
596. Clothing - 172
---
---
"The Science Notebook" Copyright 2008-2018 - Norman Young